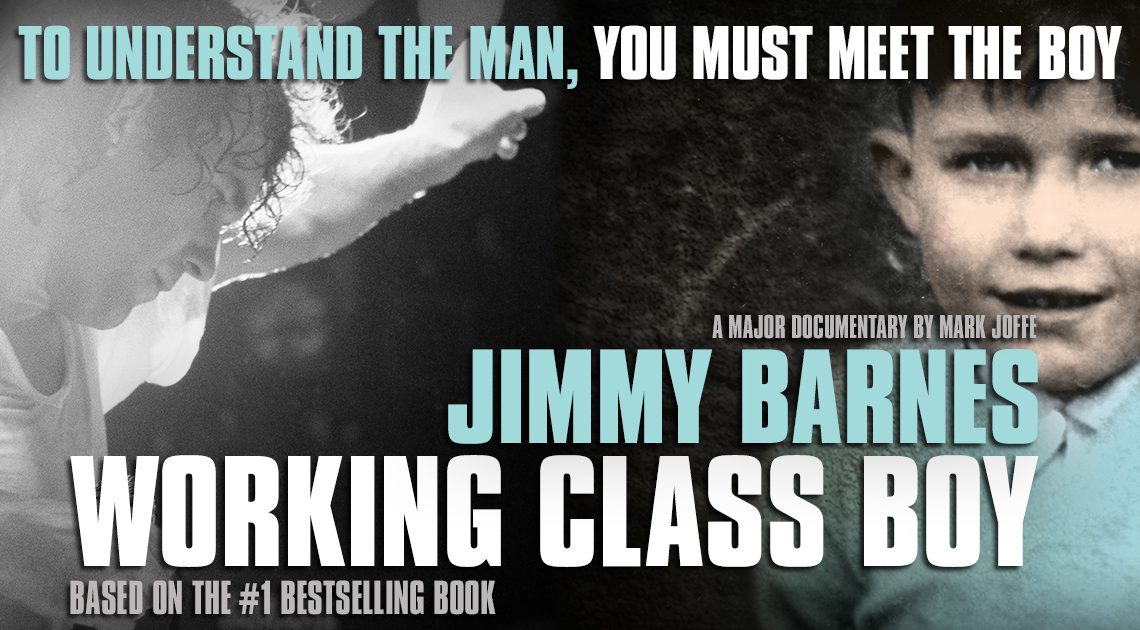 Jimmy Barnes is excited to announce the Australia-wide limited cinema release of his new documentary 'Working Class Boy', in cinemas August 23.
Based on the bestselling memoir and directed by veteran Australian filmmaker Mark Joffe, Working Class Boy is both an inspiring story of rock and redemption told in Barnes' own words and an unflinchingly honest reflection on fame, creativity and depression. Fuelled by Barnes' riotous music and incredible stories taken from more than 40 years in the music business, Working Class Boy presents a captivating and compassionate new portrait of one of our most beloved figures.
Watch the trailer here, and find your nearest cinema screening the documentary below.
Please note, all specific screening information is on each cinema's website. All cinema information is subject to change.

Browse locations by State
ACT | NSW | QLD | SA | TAS | VIC | WA
---
Australian Capital Territory

BELCONNEN HOYTS ACT
ACT

New South Wales

FAY'S TWIN TAREE
NSW
UNITED CINEMAS NARELLAN
NSW
AVOCA BEACH THEATRE
NSW
BATEMANS BAY CITY CINEMA
NSW
BOWRAL EMPIRE CINEMA
NSW
CAMPBELLTOWN GREATER UNIO
NSW
CASTLE HILL GUO
NSW
CRONULLA GU
NSW
MACQUARIE CENTRE
NSW
MIRANDA 10 WESTFIELD
NSW
NEWCASTLE TOWER CINEMAS
NSW
SHELLHARBOUR 8
NSW
TUGGERAH 8
NSW
BANKSTOWN HOYTS 8
NSW
BROADWAY HOYTS
NSW
CHARLESTOWN HOYTS
NSW
HOYTS EASTGARDENS
NSW
HOYTS ERINA FAIR
NSW
HOYTS AT FOX STUDIOS
NSW
GREEN HILLS HOYTS
NSW
MT DRUITT HOYTS
NSW
PENRITH PLAZA HOYTS
NSW
WARRAWONG HOYTS
NSW
WARRINGAH MALL TWIN
NSW
LAKE HAVEN
NSW
NELSON BAY CINEMA
NSW
ORANGE ODEON CINEMA
NSW
REGENT THEATRE TAMWORTH
NSW
WAGGA FORUM 6
NSW
RANDWICK RITZ CINEMA
NSW
SOUTH WEST ROXY CINEMA
NSW

Queensland

BALMORAL CINEPLEX
QLD
CINE CENTRE COOLANGATTA
QLD
CINEPLEX VICTORIA POINT
QLD
ELIZABETH PICTURE THEATRE
QLD
GLADSTONE CINEMA
QLD
IPSWICH LIMELIGHT
QLD
LOGANHOLME BCC
QLD
MARYBOROUGH PLAZA 4 CINEMA
QLD
MAROOCHYDORE 6 CINEMAS
QLD
NEW FARM CINEMA
QLD
PACIFIC FAIR 12
QLD
STAFFORD HOYTS
QLD
SUNNYBANK HOYTS
QLD

South Australia

GAWLER TWIN CINEMAS
SA
GLENELG GUO
SA
MARION METRO MULTIPLEX
SA
MITCHAM CINEMAS WALLIS
SA
MT BARKER CINEMA PTY LTD
SA
MT GAMBIER OATMILL CINEMA COMPLEX
SA
NOARLUNGA CINEMA CENTRE
SA
NORTH ADELAIDE PICCADILLY
SA
NOVA PALACE EASTEND
SA
PALACE NOVA PROSPECT
SA
TEA TREE PLAZA 9 HOYTS
SA

Tasmania

BURNIE METRO 4 CINEMAS
TAS
HOBART STATE CINEMA
TAS
STAR THEATRE LAUNCESTON
TAS

Victoria

BELGRAVE CAMEO
VIC
BENDIGO CINEMA PTY LTD
VIC
BRIGHT CINEMA
VIC
CARLTON NOVA JOINT VENT
VIC
COLAC CINEMAS
VIC
CMAX DEVONPORT
VIC
ECHUCA CINEMAS
VIC
LEONGATHA STADIUM 4
VIC
SALE TRIPLE CINEMA
VIC
DELACOMBE TOWN CENTRE
VIC
SWAN HILL CINEMA
VIC
TWILIGHT PORTLAND
VIC
WANGARATTA CINEMA CENTRE
VIC
YARRAVILLE SUN THEATRE
VIC
WARRAGUL CINEMA
VIC
BROADMEADOWS HOYTS
VIC
CHADSTONE HOYTS CINEMAS 1
VIC
HOYTS EASTLAND RINGWOOD
VIC
FOREST HILL HOYTS CINEMAS
VIC
FRANKSTON HOYTS
VIC
GREENSBOROUGH
VIC
HIGHPOINT HOYTS CINEMAS
VIC
NORTHLAND HOYTS 1 – 8
VIC
WATERGARDENS BRIMBANK
VIC
ROSEBUD 6
VIC
AIRPORT WEST MULTI-PLEX
VIC
ALBURY CINEMA CENTRE 6
VIC
VILLAGE EASTLANDS ROSNY
VIC
FOUNTAIN GATE 10
VIC
GEELONG VILLAGE
VIC
KNOX VILLAGE MULTI-PLEX
VIC
MORWELL MID VALLEY 8
VIC
SOUTHLAND
VIC
SUNSHINE 20
VIC
MILDURA 4
VIC

Western Australia

ACE MIDLAND GATE CINEMAS
WA
ACE CINEMAS – ROCKINGHAM
WA
INNALOO METRO CINEMA
WA
CANNINGTON CAROUSEL 8
WA
LUNA LEEDERVILLE
WA