2021 BLUESFEST RELEASES AN HISTORICAL FIRST ARTIST ANNOUNCEMENT
BON IVER – PATTI SMITH AND HER BAND – JIMMY BARNES
GEORGE BENSON – THE TESKEY BROTHERS
JOHN BUTLER – XAIVER RUDD – THE CAT EMPIRE
KOOL & THE GANG – THE GIPSY KINGS
KASEY CHAMBERS – THE WAIFS – TROY CASSAR-DALEY
MICHAEL FRANTI & SPEARHEAD
THE WAILERS PERFORM SONGS FROM 'LEGEND'
LP – MORCHEEBA – THE BLACK SORROWS
TROMBONE SHORTY & ORLEANS AVENUE
TORI KELLY – BUFFY SAINTE-MARIE
THEMARCUS KING BAND – CHRISTONE "KINGFISH" INGRAM
JIMMIE VAUGHAN – JOHN MAYALL
MELBOURNE SKA ORCHESTRA – CHAIN – LARKIN POE
WEDDINGS, PARTIES, ANYTHING – exclusive show
BACKSLIDERS – HARTS PLAYS HENDRIX – ASH GRUNWALD
THE WAR & TREATY – CORY HENRY & THE FUNK APOSTLES
WALTER TROUT – THE BAMBOOS
MICK THOMAS' ROVING COMMISSION – DAMI IM
PIERCE BROTHERS – EMILY WURRAMARA– ROSHANI – RAY BEADLE
HENRY WAGONS – HUSSY HICKS – PACEY, KING & DOLEY
DANIEL CHAMPAGNE – NATHAN CAVALERI
LITTLE GEORGIA
BLUESFEST BUSKING COMPETITION & WINNERS
THE AUSTRALIAN AMERICANA MUSIC HONOURS
Today on Wednesday July 8th Byron Bay Bluesfest releases the largest FIRST Artist Announcement made in the history of the festival. This highly anticipated release includes many of the artists intended for this year's event and features a total of 50 artists including the Bluesfest Busking Competition and the debut appearance of The Australian Americana Music Honours.  
New additions to the top end of the bill are International folk-stars Bon Iver, the heart and soul of Aussie rock Jimmy Barnes, festival favourite Michael Franti & Spearhead, and steaming hot off their No.1 debut on the ARIA album chart last May with "Live At The Forum is none other than one of this country's fastest rising stars The Teskey Brothers.
The Black Sorrows, Melbourne Ska Orchestra and an exclusive performance by Weddings Parties Anything; their first show since 2012, are also new top notch additions to this first announcement.
Last week's strong start to Early Bird ticket sales clearly demonstrates people are looking forward to leaving the house so they can soak up some much needed food for the soul. The 2021 Bluesfest promises to be a safe and full festival experience running across five stages and including all the trimmings from camping to rainbow tipis, market stalls, the busking competition, great local food and the perennial warm good vibes that is Byron Bay Bluesfest.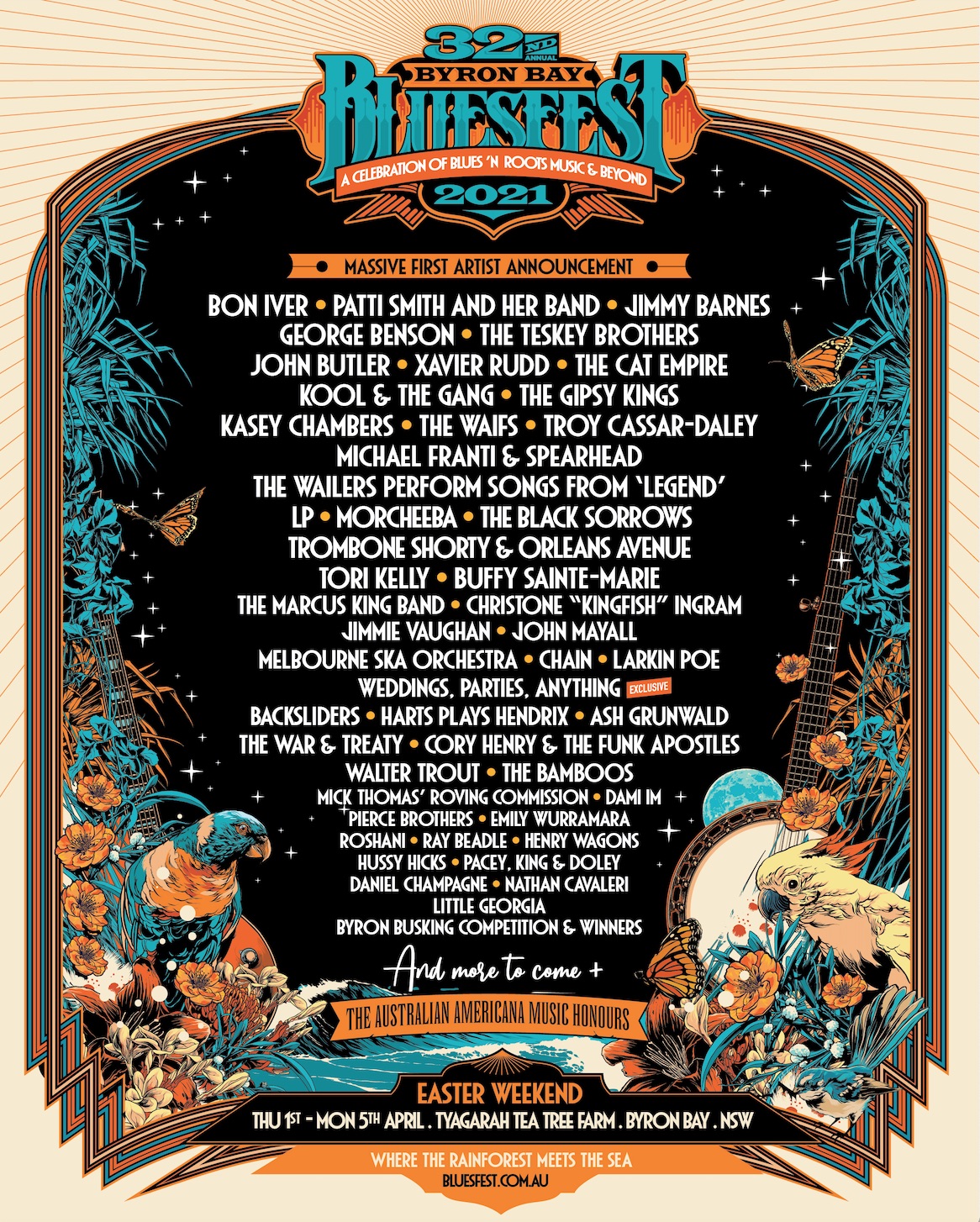 All ticket types and Add-Ons are on-sale today.