Jimmy Barnes has today broken his own Australian chart record, attaining an unprecedented eighteenth #1 with his brand new album Flesh And Blood.
Flesh And Blood is Jimmy's thirteenth solo #1. He's hit the top spot more than any other artist in the history of the Australian Record Industry Association (ARIA), eclipsing the likes of Madonna, Bon Jovi and U2, plus he's enjoyed five more #1's with the legendary Cold Chisel, bringing his combined career total to eighteen.
Jimmy Barnes first set the record for Australian #1 albums with the release of My Criminal Record in 2019, and then added to the tally a few months later with the release of Cold Chisel's Blood Moon. This week he's done it again with Flesh And Blood, once again produced by dear friend and long-time collaborator, Kevin "Caveman" Shirley.
Fittingly, Jimmy dedicated the album to music industry legend Michael Gudinski, who was central to Jimmy's career for nearly 40 years. Michael was involved in the early planning of this release prior to his passing in March. Since then, his label, led by longtime lieutenant Warren Costello, left no stone unturned to help Jimmy achieve yet another #1.
Jimmy Barnes said, "I don't take any of this for granted. Firstly, I'd like to thank all the people who are still willing to listen to my new music after all these years. I hope they get as much pleasure from listening to it as I get from making it. I'm also deeply grateful to Warren and the whole staff at Bloodlines and the Mushroom Group. Michael loved to call them 'the A Team' and they've certainly shown that yet again with all their hard work promoting Flesh And Blood. I also want to thank my brother-in-law Mark Lizotte for writing most of the songs on the album with me and, lastly, I'd like to thank my Jane and our beautiful family for continuing to inspire me, and for being such a huge part of this record"
Mushroom Group CEO Matt Gudinski says, "The Barnes and Gudinski families are just that – family. The relationship between my dad and Jimmy was one of the most successful partnerships in Australian music history. To deliver Jimmy his 13th number one album is something that brings great pride and joy to all at Mushroom and is something my dad would be immensely proud of. Jimmy is one of a kind and we love him. Congratulations Barnesy!"
Bloodlines co-founder Warren Costello says, "I know the significance of this unbelievable achievement won't be lost for one minute on Jimmy, his own family and his long-standing Mushroom family. Since the early 1980's, Jimmy and Michael both alone and together have championed each other's achievements, but even more importantly, they have championed Australasian music.
"As they were pushing boundaries and kicking goals in the 80's and 90's, they were also challenging each other to go harder, faster and better than before. Some of the best A&R decisions back then were taken by MG and Jimmy as they clocked up the first two decades of international touring and chart dominance for a raft of solo albums that followed. And whilst ego was never in short supply they were never ever naïve enough to think that #1 albums grew on trees. In the late 90's that same level of success became a little more elusive, as it does at some point in every great career, but typically Jimmy fought back as he always does."
"His first album for the new label, Liberation, that Michael and I had started, saw him back bigger and better than ever. Double Happiness debuted at #1 in 2005 and was a catalyst in many ways for all of us to re-focus."
"There have been a further five solo #1 albums since then, and also notably two #1 bestselling books and a #1 film at the Australian box office! Jimmy shows no signs of slowing down – indeed it's the exact opposite."
"Throughout the entire journey there have been a village of great people on both sides to unite and conquer. This new threshold of chart success is testament to the energy and enthusiasm that each and every one of those women and men have contributed over the four decades since Bodyswerve debuted atop the charts in 1984, right through to Flesh And Blood in July 2021."
Jimmy Barnes will hit the road in September for a tour of capital city theatres on the Flesh And Blood Tour. Then, in October and November, Jimmy and his band will head out on the second leg of the Red Hot Summer Tour, for which most shows are already sold out.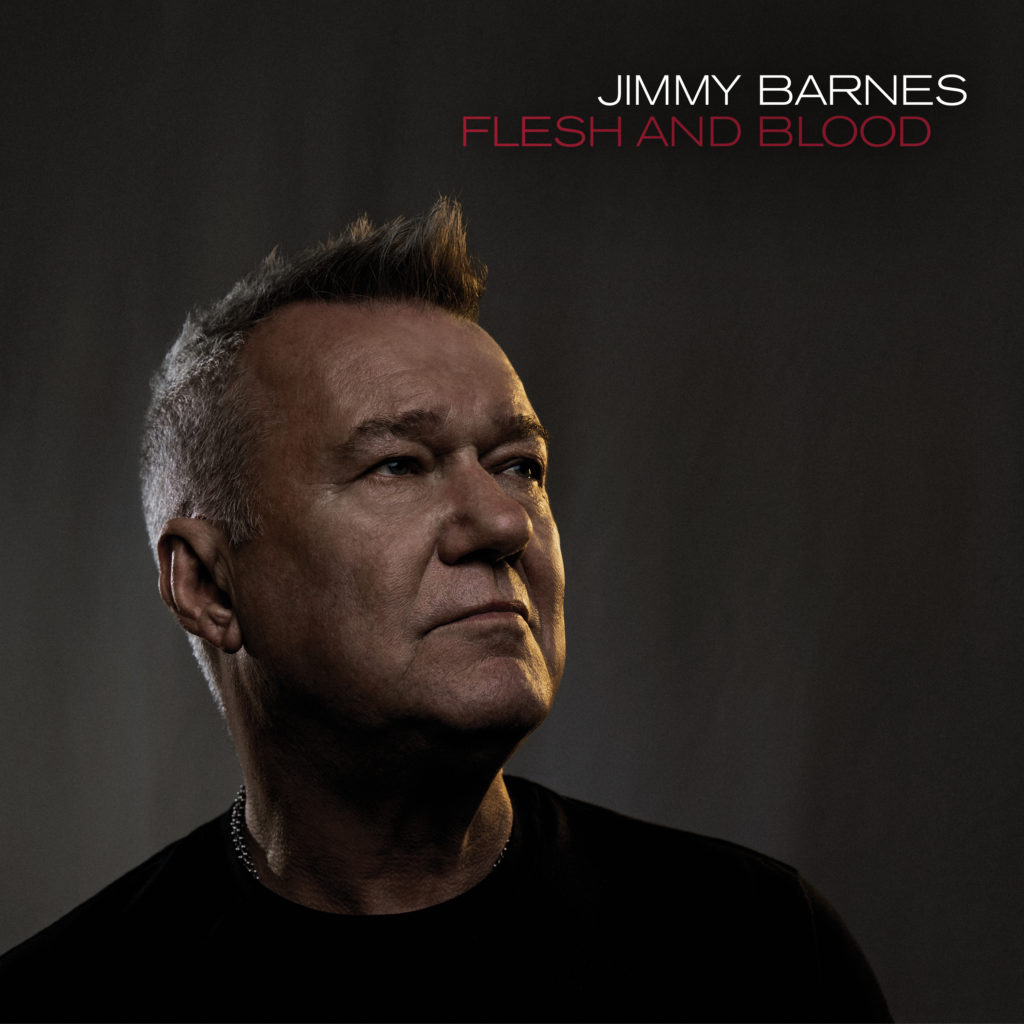 Jimmy Barnes – Flesh And Blood tracklisting:
Flesh And Blood
I'm Coming Home
Gateway To Your Heart
This Is The Truth
Around In Circles
'Til The Next Time
I Move Slow (feat. Elly-May Barnes & Jackie Barnes)
End Of The Road
Love Hurts (feat. Jane Barnes)
Tennessee Waltz (feat. Eliza Jane Barnes)
Bonus DVD tracklisting:
Hello, Dolly! (feat. David Campbell)
Skye Boat Song
Stardust
The Rose
Dirty Old Town (feat. Diesel)
Bridge Over Troubled Water (feat. Mahalia Barnes, David Campbell, Gary Pinto & Benjamin Rodgers)
Mull Of Kintyre (feat. Eliza Barnes, Jimmy Metherell, Darren Percival, Mahalia Barnes & Benjamin Rodgers)
California Dreamin' (feat. Jackie Barnes)
Take Me Home, Country Road (feat. Elly-May Barnes, Clayton Doley & Mahalia Barnes)
A Pub With No Beer
Flesh And Blood out now
Available here
Jimmy Barnes – Australian tour dates
Tickets on sale now
Thursday 2 September
Brisbane Convention & Exhibition Centre | Brisbane, QLD
Prev. Wednesday 28 July
ticketek.com.au | Ph: 132 849
Friday 3 September The Star | Gold Coast, QLD
Prev. Gold Coast Convention and Exhibition Centre, Sunday 25 July
ticketek.com.au | Ph: 132 849
Wednesday 8 September
State Theatre | Sydney, NSW
Prev. Friday 30 July
SOLD OUT
Thursday 9 September
State Theatre | Sydney, NSW
Prev. Saturday 31 July
ticketmaster.com.au | 136 100
Saturday 11 September
Thebarton Theatre | Adelaide, SA
Prev. Friday 16 July
SOLD OUT
Sunday 12 September
Thebarton Theatre | Adelaide, SA
Prev. Saturday 17 July
ticketmaster.com.au | 136 100
Saturday 18 September
Palais Theatre | Melbourne, VIC
Prev. Thursday 22 July
SOLD OUT
Sunday 19 September
Palais Theatre | Melbourne, VIC
Prev. Friday 23 July, then Friday 13 August
ticketmaster.com.au | 136 100
Wednesday 22 September
Riverside Theatre | Perth, WA
Prev. Friday 13 August
ticketek.com.au | Ph: 132 849
Sunday 17 October
Red Hot Summer
Mornington Racecourse | Mornington, VIC
Saturday 23 October
Red Hot Summer
Roche Estate | Pokolbin, NSW
Sunday 24 October
Red Hot Summer
Mount Penang Parklands | Kariong, NSW
Saturday 30 October
Red Hot Summer
Berry Showgrounds | Berry, NSW
Sunday 31 October
Red Hot Summer
Patrick White Lawns Canberra | Parkes, ACT
Saturday 6 November
Red Hot Summer
Westport Park | Port Macquarie, NSW
Saturday 13 November
Red Hot Summer
Bendigo Jockey Club | Bendigo, VIC