ANNOUNCES ENGLAND, SCOTLAND AND IRELAND SHOWS
#Working Class Man        #WorkingClassBoy
Jimmy Barnes is the heart and the soul of Australian rock 'n roll. After 40 years on stages of all kinds, Jimmy is an icon – his nickname "Barnesy" conjures up thoughts of rock music at an ear-splitting volume, and of soul standards given a unique reading. Jimmy's live shows are legendary for their intensity and for the first time since 2011, Jimmy is returning to the Northern Hemisphere for a series of rock shows in London, Glasgow, Belfast and Dublin, as well as two special Working Class Boy: An Evening of Stories & Songs shows in his beloved Scotland this December.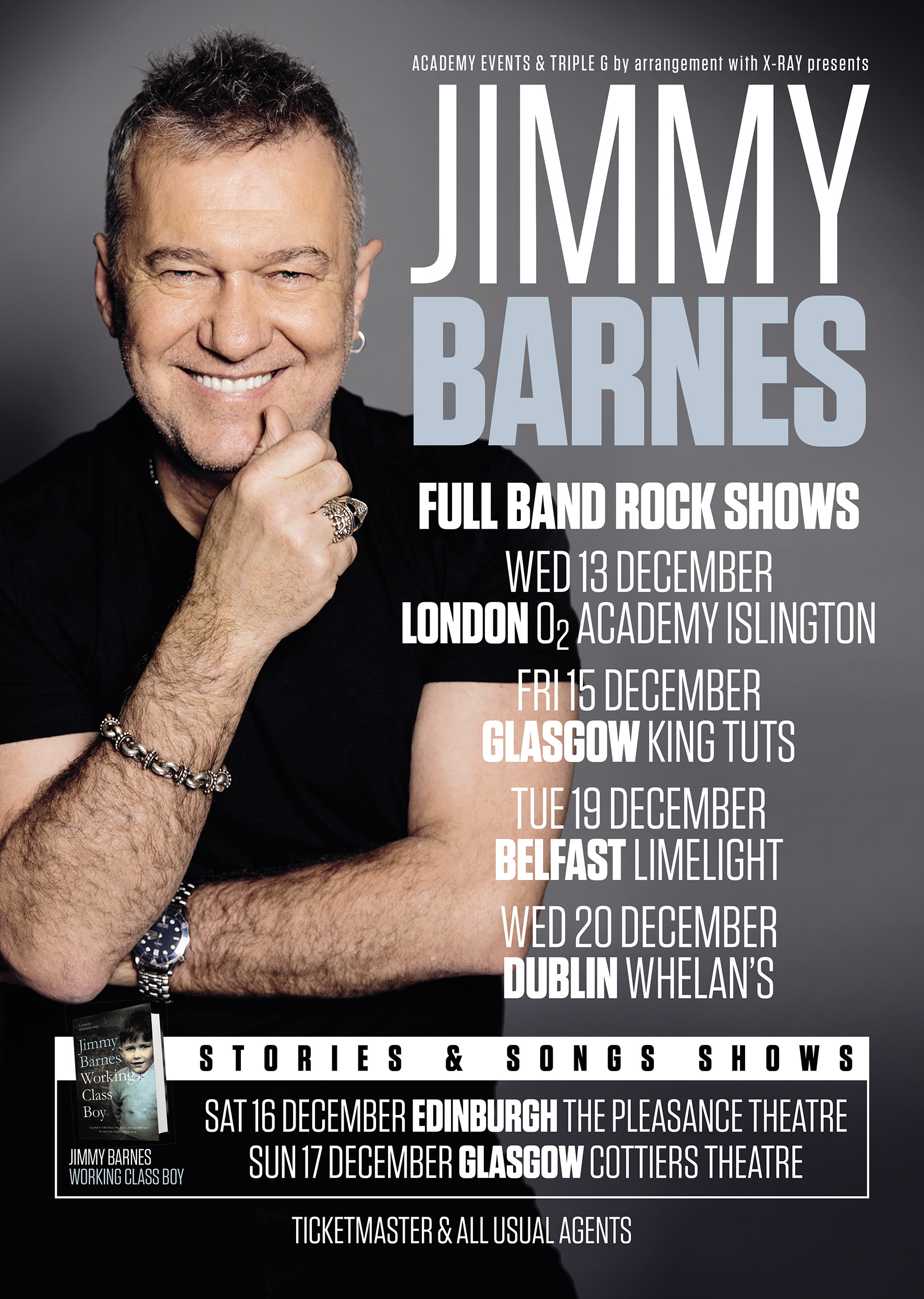 Jimmy Barnes' extraordinary career as both a solo performer and as the lead vocalist with the legendary Cold Chisel has made him one of the most popular and highest selling Australian music artists of all time. Jimmy has been through it all, and lived to tell the tale which he did in his bestselling memoir, Working Class Boy, and has earned him a place in Australia's heart and heartland. Along the way, he has sold more records in Australia than any other domestic rock and roll artist
Fans seeking tickets for Jimmy's shows are reminded to only buy tickets from the official ticket agents listed at www.jimmybarnes.com/tour-dates so as to avoid "reselling" sites who typically advertise heavily online and often mislead consumers into paying much higher prices than necessary.
Tickets for all new shows are on sale now.

Full Band Rock Shows
Wednesday, 13 December 2017
London, Islington Academy
https://academymusicgroup.com/o2academyislington
Friday, 15 December 2017
Glasgow, King Tut's
https://www.kingtuts.co.uk
Tuesday, 19 December 2017
Belfast, Limelight
http://www.limelightbelfast.com
Wednesday, 20 December 2017
Dublin, Whelan's
http://www.whelanslive.com
WORKING CLASS BOY: An Evening of Stories & Songs Shows
Saturday, 16 December 2017
Edinburgh, The Pleasance Theatre
https://www.pleasance.co.uk
Sunday, 17 December 2017
Glasgow, Cottiers Theatre
http://www.cottiers.com/the-theatre