Pre-order, here
The biggest Christmas album of 2022 just got bigger.
Jimmy Barnes' first Christmas collection, Blue Christmas, was all about family. "This album is my gift back to the kids, the grandkids and everyone out there who just wants to sit and sing with their family on Christmas," Barnes said.
And the 2023 expanded edition features a truly special family singalong.
Fun fact: Jimmy Barnes wasn't the first member of his family to release a Christmas album. In 1991, his children – The Tin Lids – released Hey Rudolph!, a Top 10 smash that sold more than 100,000 copies.
That album featured an original Christmas song, 'If Santa Forgets', written by producer David "Froggy" Froggatt.
Barnes sang on the original with The Tin Lids – Mahalia, Eliza-Jane, Jackie and Elly-May. Now they have revisited the song for the deluxe edition of Blue Christmas, with the brand-new version featuring three generations of the Barnes clan: Jimmy, The Tin Lids and the tin lids of The Tin Lids – Jimmy's grandkids. It's understandably a deeply personal addition to Blue Christmas as Jimmy reflects:
"'If Santa Forgets', it always made me very emotional. Singing with my children when they were so small seemed to pluck the heartstrings even more than usual. Now I have some of my grandchildren singing too and it has gone to the next level."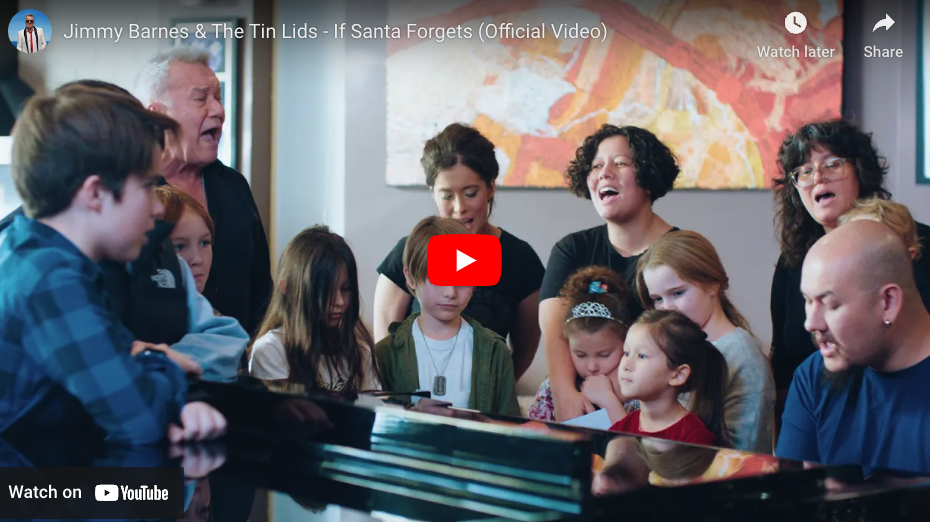 WATCH: Jimmy Barnes – If Santa Forgets (Official Video)
The 2023 expanded edition of Blue Christmas, produced by Kevin Shirley (Cold Chisel, Silverchair, The Barnestormers) also features Jimmy Barnes lending his trademark vocals to the traditional Christmas song 'O Holy Night'. On adding a new carol to the tracklist, Jimmy shares:
"'O Holy Night' is a song that I know from an amazing version by Mahalia Jackson. As a few of you probably know, I named my daughter after her. The reason I did that was because Mahalia Jackson's voice had a huge impact on me as a young fellow. She is powerful and full of love. So is this song. I love it and can't wait to sing it around the tree at Christmas."
'If Santa Forgets' and 'O Holy Night' now sit alongside Barnesy's take on classic Christmas carols such as 'Have Yourself A Merry Little Christmas', 'Silent Night', 'Little Drummer Boy' and 'Rockin' Around The Christmas Tree'.
Blue Christmas was met with Christmas cheer from fans and media alike:
——-
"If you are expecting vintage Barnesy screaming of a White Christmas, you will be disappointed. If you're ready for the kinder, gentler side of a rock legend though, be of good cheer." – The Weekend Australian
"Who knew Jimmy Barnes could croon like Elvis!? Don't believe me? Just listen!" – Beat Magazine
"A set of Christmas crowd-pleasers – fun for kids from 1 to 92." – Stack Magazine
——
Blue Christmas was Jimmy Barnes' 20th studio album and his 15th solo number one. No act has had more chart-topping albums, with Barnes leading The Beatles (14) and Madonna (12). He's also had five number one albums with Cold Chisel, bringing his remarkable tally to 20. Jimmy Barnes is the only Australian solo artist to have had number one albums in Australia in every decade since the '80s.
On 'Run Rudolph Run' on Blue Christmas, Jimmy Barnes sings Chuck Berry's words: "All I want for Christmas is a rock 'n' roll electric guitar." So what's on Barnesy's Christmas wish list this year?
"I've got everything I want," he smiles. "As long as my family is around me, I'm happy."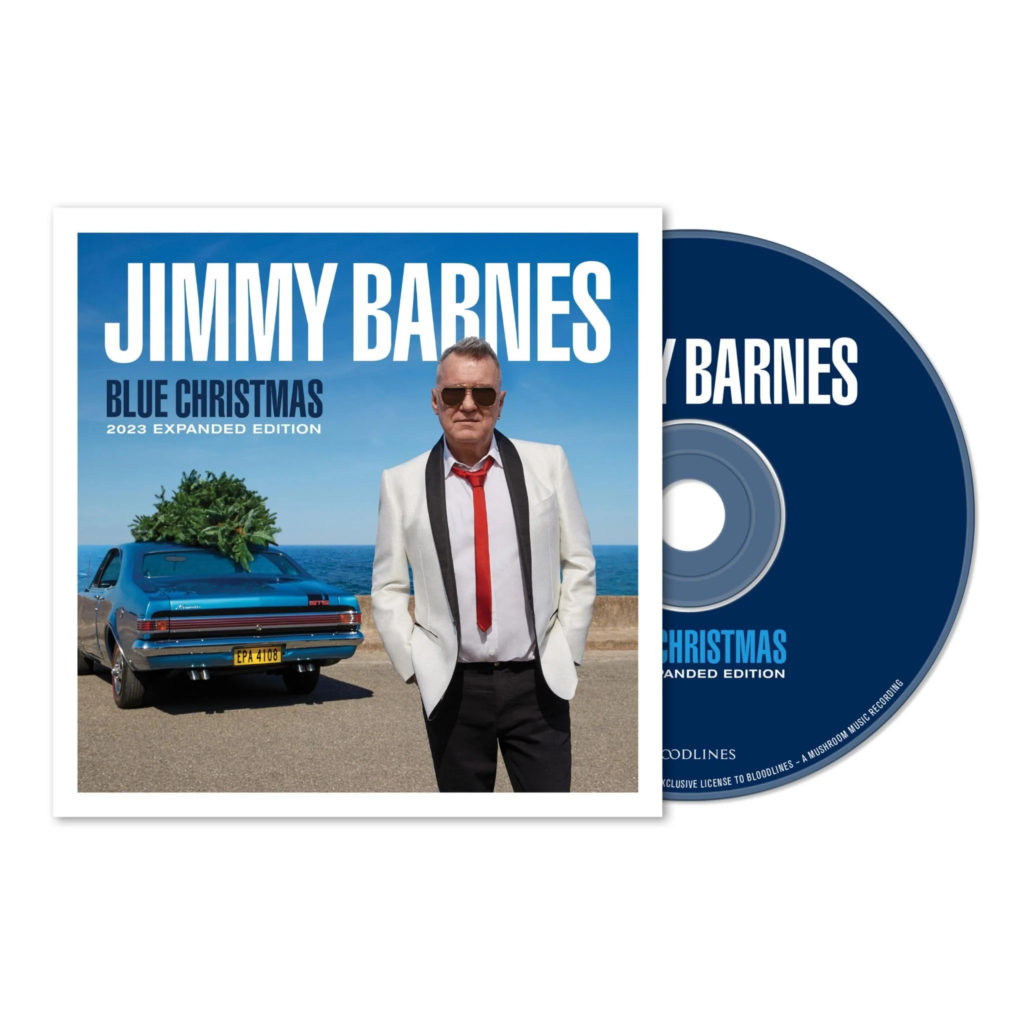 Jimmy Barnes – Blue Christmas (2023 Expanded Edition)
Available on white vinyl, CD & digital
Out Friday 24 November via Bloodlines
Pre-order HERE
Tracklisting:
O Holy Night
If Santa Forgets
Jingle Bell Rock
Santa Claus Is Coming To Town
Let It Snow!
White Christmas
Blue Christmas
The Christmas Song (Chestnuts Roasting On An Open Fire)
Run Rudolph Run
The Little Drummer Boy
Have Yourself A Merry Little Christmas
Rockin' Around The Christmas Tree
Silent Night
Auld Lang Syne