Jimmy Barnes |'Modus Operandi'
OUT NOW
After just finishing the massive 'Shutting Down Your Town' national tour of Australia and New Zealand, Jimmy Barnes hasn't paused for breath as he announces a special and limited re-package of his #1 album 'My Criminal Record'. 
For a strictly limited time, the album (which has already spawned the hits "Shutting Down Our Town" and "I Won't Let You Down") will include 'Modus Operandi', a brand new 17-song live recording from the Hordern Pavilion concert in Sydney on October 5th 2019. Get yours here.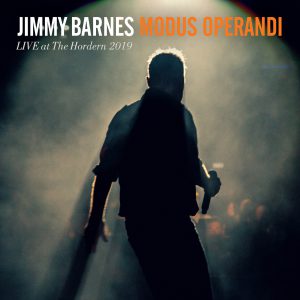 The 'Shutting Down Your Town' tour saw Jimmy power through his biggest solo gigs since the early 1990s, hitting venues like Melbourne's Rod Laver Arena, Brisbane's Riverstage, and Adelaide's Entertainment Centre.
The live album was recorded with his acclaimed touring band – Daniel Wayne Spencer, Benjamin Rodgers, Clayton Doley, Lachlan Doley, Michael Hegerty and Jackie Barnes. The line-up was augmented on the tour by family band members Jane, Mahalia, E.J and Elly-May Barnes and piper Douglas McFarland.
And in a first for Jimmy Barnes, he invited fans on this tour to send in their own photos to be included in the CD Booklet. One winner, plus an additional 5 finalists, will have their photos showcased in the deluxe 20 page CD booklet, and each fan who submitted photos will have their names included.
PHOTO:  Simone Gorman-Clark, Gold Coast (Competition Winner)
'Modus Operandi' features 7 songs from 'My Criminal Record', alongside Barnesy's many live concert staples such as "Working Class Man", "Lay Down Your Guns", "No Second Prize" and "Khe Sanh".
The sound of 'My Criminal Record' is immediate: live, loud, and in your face. That same M.O. has been brought to the live album. And like 'My Criminal Record', 'Modus Operandi' was produced by long-time Jimmy Barnes studio wizz, Kevin Shirley.
Jimmy says, "This tour has meant a lot to me. It's really the climax of nearly a decade spent confronting my demons and using words and music to come to terms with them. At all of these shows I can feel the audience picking me up and putting me on their shoulders, so I wanted to release one of the shows from this memorable tour to say thanks to everyone who was there, and to let everyone else know what they missed."
'My Criminal Record / Modus Operandi (Live At The Hordern Pavilion 2019)' is released as a limited edition 2CD, and for digital download, today through Bloodlines.
***
Jimmy Barnes
My Criminal Record / Modus Operandi
(Live At The Hordern Pavilion 2019) 

1. My Criminal Record
2. Shutting Down Our Town
3. I'm In A Bad Mood
4. Stolen Car (The Road's On Fire) [Pt. I] 5. My Demon (God Help Me)
6. Working Class Hero
7. Belvedere And Cigarettes
8. I Won't Let You Down
9. Stargazer
10. Money And Class
11. Stolen Car (The Road's On Fire) [Pt. II] 12. If Time Is On My Side
13. Tougher Than The Rest
14. Driving Wheels (Live At The Hordern Pavilion 2019)
15. I'm In A Bad Mood (Live At The Hordern Pavilion 2019)
16. Stolen Car (The Road's On Fire) (Live At The Hordern Pavilion 2019)
17. Ride The Night Away (Live At The Hordern Pavilion 2019)
18. Khe Sanh (Live At The Hordern Pavilion 2019)
19. My Criminal Record (Live At The Hordern Pavilion 2019)
20. Lay Down Your Guns (Live At The Hordern Pavilion 2019)
21. Boys Cry Out For War (Live At The Hordern Pavilion 2019)
22. Money And Class (Live At The Hordern Pavilion 2019)
23. Working Class Hero (Live At The Hordern Pavilion 2019)
24. I Won't Let You Down (Live At The Hordern Pavilion 2019)
25. Shutting Down Our Town (Live At The Hordern Pavilion 2019)
26. I'd Die To Be With You Tonight (Live At The Hordern Pavilion 2019)
27. No Second Prize (Live At The Hordern Pavilion 2019)
28. Working Class Man (Live At The Hordern Pavilion 2019)
29. Love And Hate (Live At The Hordern Pavilion 2019)
30. Goodbye (Astrid Goodbye) (Live At The Hordern Pavilion 2019)