'My Criminal Record' is the first new original Jimmy Barnes recording to be released in almost a decade. Co-written with legendary Cold Chisel keyboardist Don Walker, this gritty song is the title track from Jimmy's long awaited new studio album (produced by Kevin Shirley), which is finally due on May 31 and available to pre-order now.
The roots of My Criminal Record can be traced back to the traumatic youth documented in Jimmy's bestselling, award winning memoirs. As he wrote those two harrowing but uplifting books, and performed the intense spoken word tours which accompanied them, he began to write songs which dug even deeper. 'My Criminal Record' was one of the first such pieces that arrived alongside the book tours. It seemed to sum up so much of what he'd learned from the experience of revisiting his life, that he took to closing the Working Class Man live show each night with the then unreleased tune; deliberately ushering in 'the next chapter' where he returns to what he does best.
Jimmy spits the song's chorus with his signature venom:
"I keep it locked away somewhere I know
In a cellar that I call my youth
It's my criminal record
It's the truth"
Jimmy and his band are currently performing 'My Criminal Record' on the Red Hot Summer Tour, as well as previewing other new songs in his explosive live set.
'My Criminal Record' looms large as an instant Barnes classic, taking everything he's learned and everything he's lived and pouring it out in one searing rock song.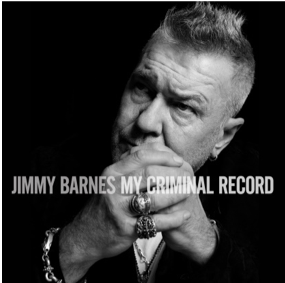 Jimmy Barnes – My Criminal Record tracklisting:
1. My Criminal Record
2. Shutting Down Our Town
3. I'm In A Bad Mood
4. Stolen Car
5. My Demon (God Help Me)
6. Working Class Hero
7. Belvedere And Cigarettes
8. I Won't Let You Down
9. Stargazer
10. Money And Class
11. If Time Is On My Side
12. Tougher Than The Rest
13. Reckless Beauty – Deluxe Edition Bonus Track
14. Waitin' On A Plane – Deluxe Edition Bonus Track
15. The Road's On Fire – Deluxe Edition Bonus Track
16. Tougher Than The Rest (Alternate Mix) – Deluxe Edition Bonus Track
17. I'm In A Bad Mood (Bob Clearmountain mix) – Deluxe Edition Bonus Track
'My Criminal Record' single out now through Bloodlines
Listen here
My Criminal Record album out 31 May 2019 through Bloodlines
Pre-order available here