+ ONE MONTH UNTIL FLESH AND BLOOD ALBUM RELEASE
With just one month to go until Jimmy Barnes releases his new album Flesh And Blood, he has released the latest track, ''Til The Next Time'. The release of ''Til The Next Time' follows the lead single and title track, which was released in March.
Jimmy says, "This song is very personal. It's about self-doubt and waking up in the middle of the night wondering if you are good enough for your family."
Listen to ''Til The Next Time' here
Flesh And Blood will be released one month from today on 2 July, marking Jimmy's 20th studio album release. To celebrate the release of the album, Jimmy will head out on the road for the Flesh And Blood Tour, kicking off in July. The tour will see Jimmy perform in theatres across the country, and as always, will feature many members of his family playing alongside him. Tickets are on sale now.
The theme of family is evident throughout Flesh And Blood; the ten songs on the album feature contributions from Jimmy's extended family. His son Jackie plays drums, his daughters Mahalia, Eliza-Jane and Elly-May all contribute vocals, as does Jackie and granddaughter, Tyra Harrison. Ben Rodgers, Jimmy's son-in-law, engineered the album, played bass, and collaborated with Jimmy's nephew, renowned photographer Jesse Lizotte, on the album cover. Jimmy and Jane duet together on the American classic 'Love Hurts'.
The deluxe edition of Flesh And Blood contains a bonus DVD featuring ten of the most popular "at home performances" from the hundreds of the videos that Jimmy and his family filmed throughout 2020, which garnered more than 100 million views across social media. Bearing the tongue in cheek title The Jane Barnes Band's Greatest Hits, this limited edition bonus DVD will be a souvenir of a year that won't be forgotten in a hurry. The deluxe CD/DVD is available to pre-order now here.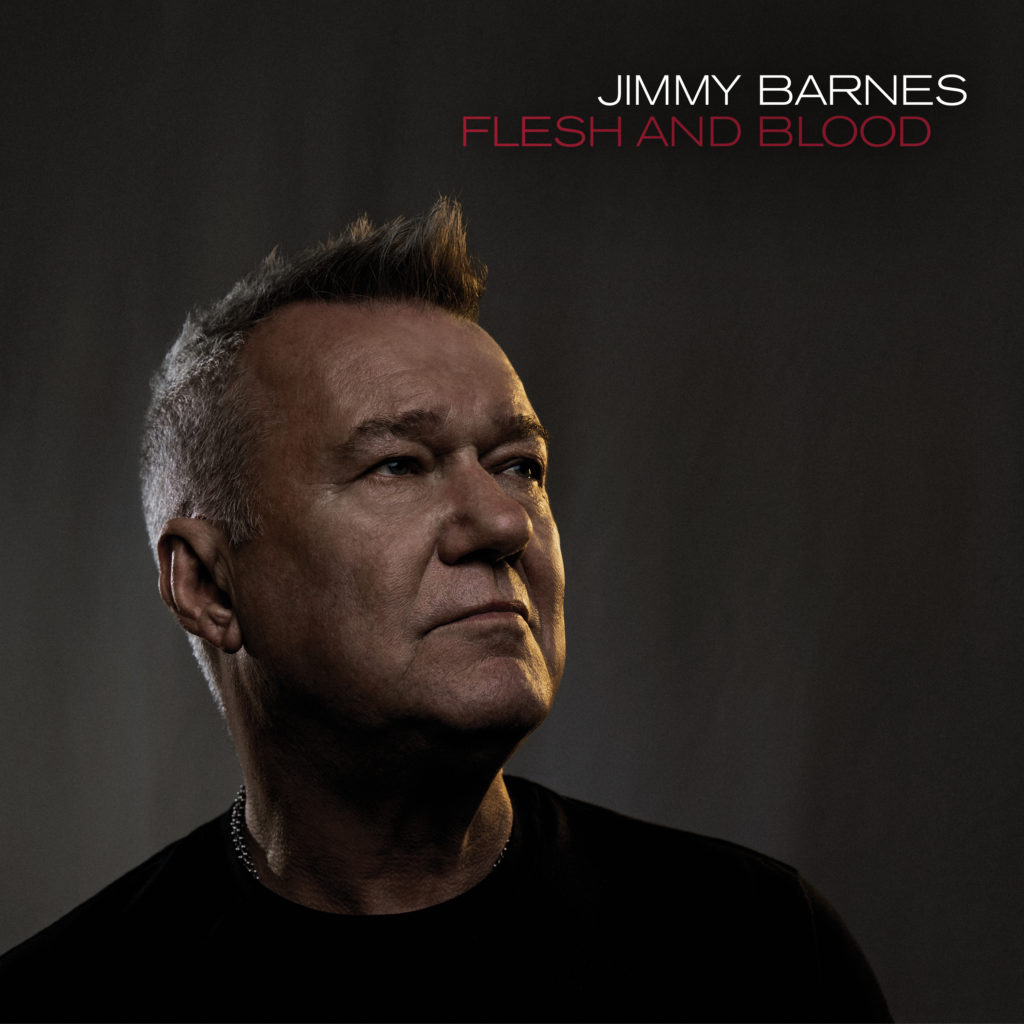 Jimmy Barnes – Flesh And Blood tracklisting:
Flesh And Blood
I'm Coming Home
Gateway To Your Heart
This Is The Truth
Around In Circles
'Til The Next Time
I Move Slow (feat. Elly-May Barnes & Jackie Barnes)
End Of The Road
Love Hurts (feat. Jane Barnes)
Tennessee Waltz (feat. Eliza Jane Barnes)
Bonus DVD tracklisting:
Hello, Dolly! (feat. David Campbell)
Skye Boat Song
Stardust
The Rose
Dirty Old Town (feat. Diesel)
Bridge Over Troubled Water (feat. Mahalia Barnes, David Campbell, Gary Pinto & Benjamin Rodgers)
Mull Of Kintyre (feat. Eliza Barnes, Jimmy Metherell, Darren Percival, Mahalia Barnes & Benjamin Rodgers)
California Dreamin' (feat. Jackie Barnes)
Take Me Home, Country Road (feat. Elly-May Barnes, Clayton Doley & Mahalia Barnes)
A Pub With No Beer
''Til The Next Time' out now
Stream or download here
Flesh And Blood out 2 July 2021
Pre-order available here
Jimmy Barnes – Australian tour dates
Tickets on sale now
Friday 2 Jul
Flesh And Blood Tour
Riverside Theatre | Perth, WA
ticketek.com.au | Ph: 132 849
Friday 16 July
Flesh And Blood Tour
Thebarton Theatre | Adelaide, SA
ticketmaster.com.au | Ph: 136 100
Saturday 17 July
Flesh And Blood Tour
Thebarton Theatre | Adelaide, SA
ticketmaster.com.au | Ph: 136 100
Thursday 22 July
Flesh And Blood Tour
Palais Theatre | Melbourne, VIC
ticketek.com.au | Ph: 133 849
Friday 23 July
Flesh And Blood Tour
Palais Theatre | Melbourne, VIC
ticketek.com.au | Ph: 133 849
Tickets on sale from midday
Sunday 25 July
Flesh And Blood Tour
Gold Coast Convention & Exhibition Centre | Gold Coast, QLD
ticketek.com.au| Ph: 132 849
Wednesday 28 July
Flesh And Blood Tour
Brisbane Convention & Exhibition Centre | Brisbane, QLD
ticketek.com.au| Ph: 132 849
Friday 30 July
Flesh And Blood Tour
State Theatre | Sydney, NSW
ticketmaster.com.au | Ph: 136 100
Sunday 17 October
Red Hot Summer
Mornington Racecourse | Mornington, VIC
Saturday 23 October
Red Hot Summer
Roche Estate | Pokolbin, NSW
Sunday 24 October
Red Hot Summer
Mount Penang Parklands | Kariong, NSW
Saturday 30 October
Red Hot Summer
Berry Showgrounds | Berry, NSW
Sunday 31 October
Red Hot Summer
Patrick White Lawns Canberra | Parkes, ACT
Saturday 6 November
Red Hot Summer
Westport Park | Port Macquarie, NSW
Saturday 13 November
Red Hot Summer
Bendigo Jockey Club | Bendigo, VIC