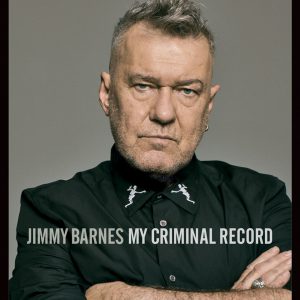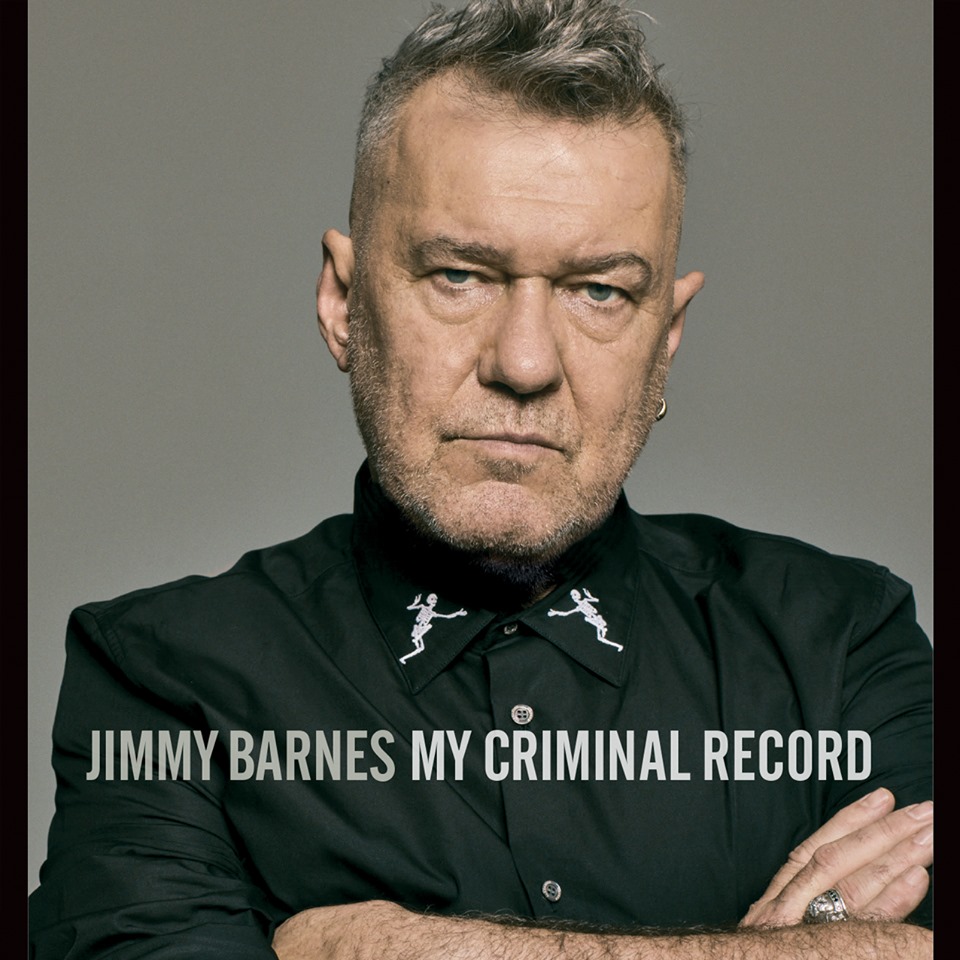 JIMMY BARNES BREAKS RECORD FOR THE MOST #1's IN ARIA CHART HISTORY
ECLIPSING U2 & MADONNA

'MY CRIMINAL RECORD' IS BARNES' 16TH #1 ALBUM
'Tough and vulnerable Barnsey at his best'
– Bernard Zuel, The Guardian (****)
Australian rock legend Jimmy Barnes has secured a staggering sixteenth #1 album today with his critically acclaimed My Criminal Record debuting at the top of the ARIA Album Charts. After four with Cold Chisel and now twelve in his own right, Jimmy has had more number ones in this country than any other artist in ARIA Chart history, surpassing Madonna and U2's eleven chart toppers with today's achievement.
The news comes as the only Melbourne show on the national "Shutting Down Your Town" tour has now sold out with tickets to the remaining shows all selling fast.
Over recent decades Jimmy's enjoyed lots of success with soul albums and other collections of classics, but My Criminal Record is actually his first collection of new original songs to hit #1 since Two Fires way back in 1990. The feat is even more remarkable considering his new album was up against the soundtrack to the hit Elton John film "Rocketman" and a surprise release from global streaming superstar Miley Cyrus. (See below for chart stats)
In New Zealand, My Criminal Record debuted at #3, Jimmy's highest debut in 26 years.
Jimmy Barnes said today, "The songs on this album are really personal because they were inspired by the experiences I had writing and touring my memoirs. Having this music strike a chord with people therefore feels particularly good. I'm grateful to everyone who's continued to support me over the years and I'm looking forward to screaming my thanks in person when I get back out on the road shortly."
Mushroom Group Chairman, Michael Gudinski, said "There will never be another artist in Australia like Jimmy Barnes. Sixteen number one albums is simply an incredible achievement and My Criminal Record is, in my opinion, some of the best work of Jimmy's illustrious career."
Bloodlines Label co-founder, Warren Costello, adds "Jimmy and (manager) John Watson have an amazing hard-working team around them, as do we, but it's Jimmy himself who sets the tone with this outstanding new album and his incomparable work ethic."
My Criminal Record (out now through Bloodlines) was produced by longtime studio collaborator, Kevin "Caveman" Shirley and was released on 31 May to some of the strongest reviews Jimmy has ever received. For example:
"His (new) solo album exhibits the hard-won fruits of one of the  toughest performers in Australian music embracing his past  without fear or shame" – Andrew McMillan, The Weekend Australian

"Barnes wraps up his longer story of a man laid bare and prepared to ask for help: his singing controlled, the hurt revealed" – Bernard Zuel, The Guardian (****)

"He rails and he rages and the result is one of the best records of his remarkable career"- Jeff Jenkins, Stack

"My Criminal Record is a passionate return for Australia's working  class hero' – Josh Leeson, Newcastle Herald

"His first original rock album in almost a decade … he's lost no hunger or fire' – Cameron Adams, Herald Sun (****)
Fans will be able to experience the sheer power of My Criminal Record live as Jimmy hits the road in September with his 'Shutting Down Your Town' tour, his largest headlining tour of this century where he will be joined by special guests including JET and ESKIMO JOE. Tickets for the tour are on-sale now, with the remaining shows selling fast.

My Criminal Record is out now through all the usual outlets. Click HERE to get it.
JIMMY BARNES
SHUTTING DOWN YOUR TOWN TOUR
AUSTRALIA & NEW ZEALAND
SEPTEMBER – NOVEMBER 2019
Presented by Frontier Touring, Triple M, Mix 106.3 & Wave FM 96.5
Fans are advised to ONLY buy ticket by clicking on the official links and are strongly advised NEVER to buy tickets via resellers such as Viagogo because it can lead to rip offs.
Wednesday, 18 September 2019
Mackay Entertainment Centre, Mackay Qld
Tickets available from the venue – 07 4961 9777 or themecc.com.au
BOOK TICKETS
Friday, 20 September 2019
Townsville Entertainment Centre, Townsville Qld
Special Guest: Eskimo Joe
Tickets available from the venue – 07 4771 4000 or tecc.net.au
BOOK TICKETS
Saturday, 21 September 2019
Munro Martin Parklands, Cairns Qld
Special Guest: Eskimo Joe
Tickets available from Ticketlink – 1300 855 835 or ticketlink.com.au
BOOK TICKETS
Wednesday, 25 September 2019
Dunedin Town Hall, Dunedin NZ
Tickets available from Ticketmaster – 0800 111 999 or ticketmaster.co.nz
BOOK TICKETS
Thursday, 26 September 2019
Christchurch Town Hall, Christchurch NZ
Tickets available from Ticketek – 0800 842 538 or www.ticketek.co.nz
BOOK TICKETS
Saturday, 28 September 2019
Spark Arena, Auckland NZ
Tickets available from Ticketmaster – 0800 111 999 or ticketmaster.co.nz
BOOK TICKETS
Thursday, 3 October 2019
WIN Entertainment Centre, Wollongong NSW
Special Guest: Jet
Tickets available from Ticketmaster – 136 100 or ticketmaster.com.au
BOOK TICKETS
Saturday, 5 October 2019
Hordern Pavilion, Sydney NSW
Special Guest: Jet
Tickets available from Ticketek – 132 849 or ticketek.com.au
BOOK TICKETS
New Melbourne show details:
Saturday 12 October 2019
Rod Laver Arena | Melbourne, VIC
With special guest Jet
New tickets go on sale at 10am on Friday 28 June 2019
ticketek.com.au | 132 849
Sunday, 13 October 2019
Adelaide Entertainment Centre, Adelaide SA
Special Guest: Jet
Tickets available from Ticketek – 132 849 or ticketek.com.au
BOOK TICKETS
Thursday, 17 October 2019
Empire Theatre, Toowoomba Qld
Tickets available from the venue – 1300 655 299 or empiretheatre.com.au
BOOK TICKETS
Saturday, 19 October 2019
Riverstage, Brisbane Qld
Special Guests: Jet and Eskimo Joe
Tickets available from Ticketmaster – 136 100 or ticketmaster.com.au
BOOK TICKETS
Sunday, 20 October 2019
Home of the Arts, Gold Coast Qld
Special Guest: Jet
Tickets available from the venue – 07 5588 4000 or hota.com.au
BOOK TICKETS
Friday, 25 October 2019
Newcastle Entertainment Centre, Newcastle NSW
Special Guest: Jet
Tickets available from Ticketek – 132 849 or ticketek.com.au
BOOK TICKETS
Saturday, 26 October 2019
Park Beach Reserve, Coffs Harbour NSW
Special Guests: Jet and Eskimo Joe
Tickets available from Ticketmaster – 136 100 or ticketmaster.com.au
BOOK TICKETS
Thursday, 31 October 2019
Theatre Royal, Canberra ACT
Special Guest: Eskimo Joe
Tickets available from Ticketek – 132 849 or ticketek.com.au
BOOK TICKETS
Saturday, 2 November 2019
Pola Park, Tullamore NSW
Special Guest: Troy Cassar-Daley
Tickets available from 123tix – 1300 001 238 or 123tix.com.au
BOOK TICKETS
ALSO APPEARING AT:
Sunday, 10 November 2019
96FM's Kickstart Summer Concert
Ascot Racetrack, Perth WA
Tickets available from Ticketmaster – 136 100 or ticketmaster.com.au
BOOK TICKETS