JIMMY BARNES | HOODOO GURUS
JON STEVENS I DIESEL I VIKA & LINDA I CHRIS CHENEY
TICKETS GO ON SALE AT 9AM ON THURSDAY 3RD DECEMBER 2020 VIA TICKETMASTER
The 2021 RED HOT SUMMER TOUR is already sought-after, with three of the shows selling out in the first week of sale. Audiences in Victoria, New South Wales and the Australian Capital Territory have been eagerly awaiting news of shows in their regions, and now the RED HOT SUMMER TOUR has added a second leg to its 2021 run with more shows added to the second half of the year.
The ever-popular Victorian show at Mornington Racecourse will kick off the second leg of the RED HOT SUMMER TOUR in October, with four dates added in New South Wales, a date for Canberra music-fans and then a final 2021 show in Bendigo, Victoria in November. The shows feature and all-star line-up with Jimmy Barnes, Hoodoo Gurus, Jon Stevens, Diesel, Vika & Linda and Chris Cheney. Tickets for the COVID- safe shows go on sale on Thursday 3rd December.
Promoter Duane McDonald says fans in Victoria, New South Wales and the ACT have been flooding social media with queries on when dates will be announced for them. "We have been blown away by the support for the 2021 RED HOT SUMMER TOUR," he says. "Since we announced the first run, we have been contacted daily about when fans in other states will have a chance to attend the festival. We were working on dates for Victoria, New South Wales and the ACT from the very start, however we needed to make sure we worked well in-line with Government restrictions to provide the festival in a COVID- safe way. We are stoked to be able to announce these shows for our long-time supporters in those areas."
Bringing together an enviable line-up of Aussie acts was paramount for the organisers, and Duane says everyone onboard for the 2021 run can't wait. "We are excited to have the opportunity to hit the road in 2021 bringing some great music experiences that the RED HOT SUMMER TOUR has been sharing with audiences for over a decade," he says. "Bringing together our mates in the music industry and taking the tour around Australia has always been special, but next year's run is going to mean a lot to everyone. We've invited some of the artists who have been championing the tour from the very beginning and know everyone can't wait to put on an incredible show. We look forward to making new musical memories for the next decade and can't wait to see all the music-lovers who have supported us over the years at one of the shows in 2021."
The 2021 RED HOT SUMMER TOUR line-up hardly needs an introduction to audiences, it features Australian music royalty. Jimmy Barnes, affectionately known by all as Barnesy, is the heart and soul of Australian rock and roll. He released his 17th solo album, My Criminal Record, in 2019 and recently dropped a new single, the haunting co-write with Don Walker Killing Time, which featured the Australian Chamber Orchestra. His third book, Killing Time: short stories from the long way home, debuted at #1 on the non-fiction book charts.
Tickets for second leg of the 2021 RED HOT SUMMER TOUR go on sale at 9am on Thursday 3rd December. Tickets for the first leg of the tour are on sale now. Tickets are only available through Ticketmaster. Punters are advised not to purchase tickets from Viagogo or other Third Party Sellers, as fraudulent tickets will not be honoured.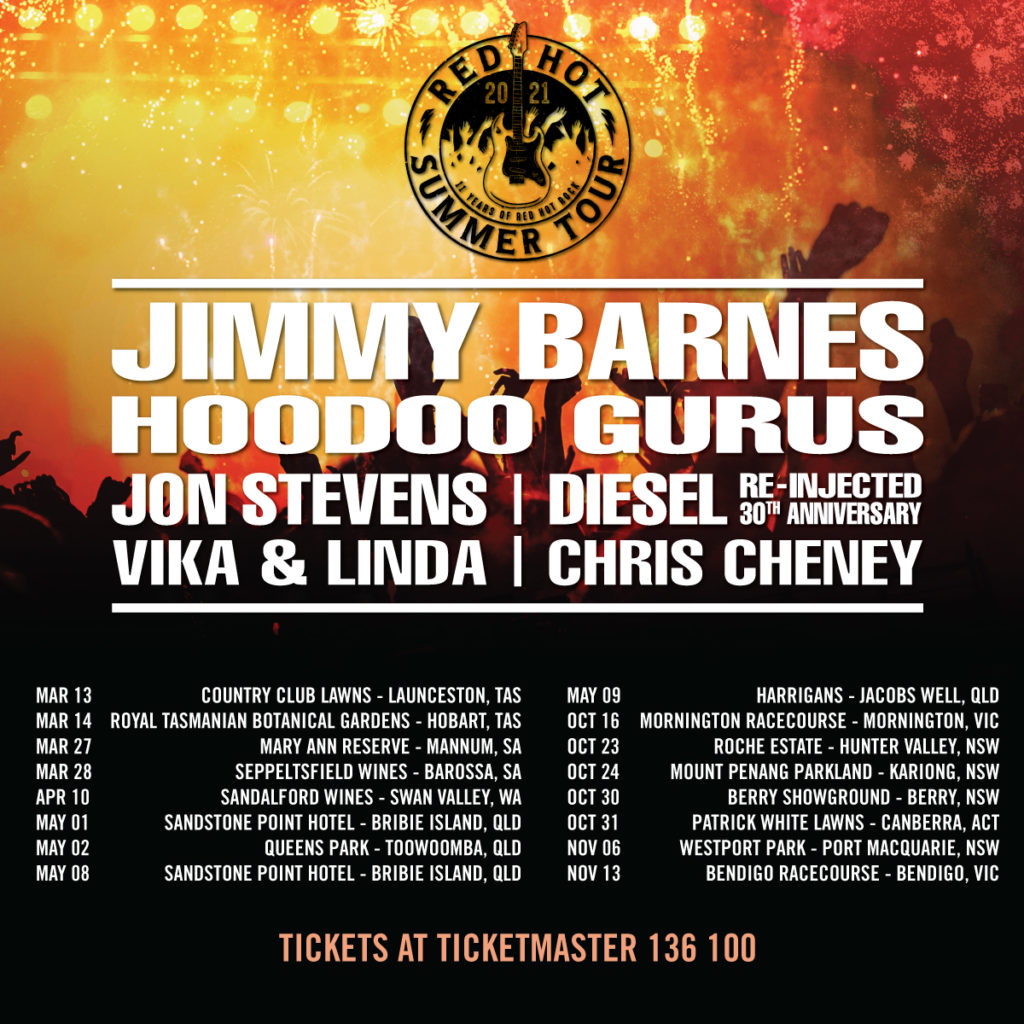 DATES FOR THE SECOND LEG OF THE 2021 RED HOT SUMMER TOUR
** Tickets on sale from Thursday 3rd December 2020 ***
Saturday 16th October 2021
Mornington Racecourse, MORNINGTON VIC
www.ticketmaster.com.au | 136 100
Saturday 23rd October 2021
Roche Estate, POKOLBIN NSW
www.ticketmaster.com.au | 136 100
Sunday 24th October 2021
Mount Penang Parkland, KARIONG NSW
www.ticketmaster.com.au | 136 100
Saturday 30th October 2021
Berry Showgrounds, BERRY NSW
www.ticketmaster.com.au | 136 100
Sunday 31st October 2021
Patrick White Lawns, CANBERRA ACT
www.ticketmaster.com.au | 136 100
Saturday 6th November 2021
Westport Park, PORT MACQUARIE NSW
www.ticketmaster.com.au | 136 100
Saturday 13th November 2021
Bendigo Jockey Club, BENDIGO VIC
www.ticketmaster.com.au | 136 100